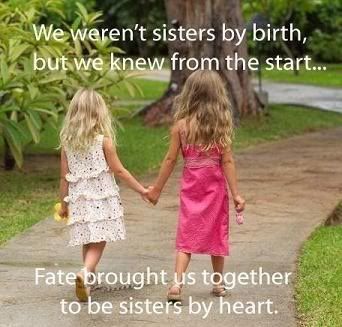 To My BFF Kaitlyn
You are my best friend, my sister, my other half. A soul mate doesn't have to be someone you're in love with. You're the one who understands me, no matter what, and accepts that I have issues, I'm not perfect and I never will be. You're one of the most caring people I know, and I know that you will stay that way. Thank you.
P.S. I love you
To My Friend, Jill,
Another sister, caring and kind, I can always say whats on my mind to you. You'll always be there for me, no matter what. I wish I was with you more often than I am. Thank you.
P.S. I love you
To my Boyfriend, Howard,
To be able to explain how much love I hold for you would make it a small amount indeed. All I can do is hope that you can see it in my smile, feel it in my touch, and know it from the sparkle in my eyes. What we have is what dreams are made of. Treasure it with me. I know that sometimes I am infuriating, and quite frankly, so are you. But that doesn't matter, because, if we love each other, than we can make it through anything. You are worth everything.
P.S. I love you
To My Ex, Avery,
There is more to say to you than I could put into such a small paragragh as I am putting here. Suffice to say that I know now that it would never work between us, no matter how much I love you or you love me. Cliche it may be, but if you really love me, you will let me go. You would not be happy with me. I would not be happy with you. I know this, and though my heart may skip a beat at the sight of you, it does not matter. I have to cut off contact in order to stay sane. And as wonderful a guy you may be, you still are the same arrogant, selfish, annoying bastard that I found inside that sweet, charming outside shell you put up. I'm sorry to say it, but goodbye.
P.S. I love you too, bastard.